Lecce (6) 7-9 June
ENG: Our Cresciblureef fellows Gemma Donato, Gianmarco and Francesco took part in PALEODAYS held in Lecce from 6 to 9 June. The congress had 115 participants from all over Italy and abroad, who presented 56 oral communications and 38 posters. To welcome the participants, the Organizing Committee has organised, for the afternoon of 6 June, a guided tour of the historic center of Lecce and a welcome aperitif (icebreaker party) at the Rectorate of the University of Salento. The pre-congress Round Table of the PaiP (Palaeontologist in Progress), dedicated to SPI unstructured young people and enthusiasts, was held at the MAUS.
The program included two days (June 7 and 9) dedicated to oral presentations and posters, with the space for posters set up at the MAUS; the social dinner was held on the 7th evening in the Rectorate. While the excursion took place on 8 June, with a visit to important paleontological sites in the Salento area: the complex of the Pietra Leccese quarries of Cursi-Melpignano; the Decio de Lorentiis Museum of Paleontology and Paletnology in Maglie; the former bauxite quarries of Otranto; the Oligocene calcarenites with carpets of rhodolites and macroforaminifera facies in the inlet of Porto Badisco; the Oligocene with corals of Calcare di Castro in the area of Grotta Zinzulusa.

The XXIII edition of the Paleontology Days took place at the Ecotekne University Campus and the Environment Museum of the University of Salento (MAUS).
.
.
ITA: I nostri borsisti Cresciblureef Gemma Donato, Gianmarco e Francesco hanno partecipato al PALEODAYS tenutosi a Lecce dal 6 al 9 giugno scorsi. Il congresso ha avuto 115 partecipanti da tutta Italia e dall'estero, che hanno presentato 56 comunicazioni orali e 38 poster. Per dare il benvenuto ai congressisti, il Comitato Organizzatore ha organizzato, per il pomeriggio del 6 giugno, una visita guidata del Centro Storico di Lecce e un aperitivo di benvenuto (icebreaker party) presso il Rettorato dell'Università del Salento. La Tavola Rotonda pre-congresso del PaiP (Palaeontologist in Progress), dedicata ai giovani non strutturati della SPI e agli appassionati, si è svolta al MAUS. Il programma ha previsto due giornate (7 e 9 giugno) dedicate alle presentazioni orali e ai poster, con lo spazio per i poster allestito presso il MAUS; la cena sociale si è svolta il 7 sera all'interno del Rettorato. Mentre l'8 giugno si è svolta l'escursione, con la visita ad importanti siti paleontologici del territorio salentino: il complesso delle cave di Pietra Leccese di Cursi-Melpignano; il Museo di Paleontologia e Paletnologia Decio de Lorentiis di Maglie; le ex-cave di bauxite di Otranto; le calcareniti oligoceniche con tappeti di rodoliti e facies a macroforaminiferi nell'insenatura di Porto Badisco; l'Oligocene a coralli del Calcare di Castro nella zona di Grotta Zinzulusa.
La XXIII edizione delle Giornate di Paleontologia si è svolta presso il Campus Universitario Ecotekne e il Museo dell'Ambiente dell'Università del Salento (MAUS).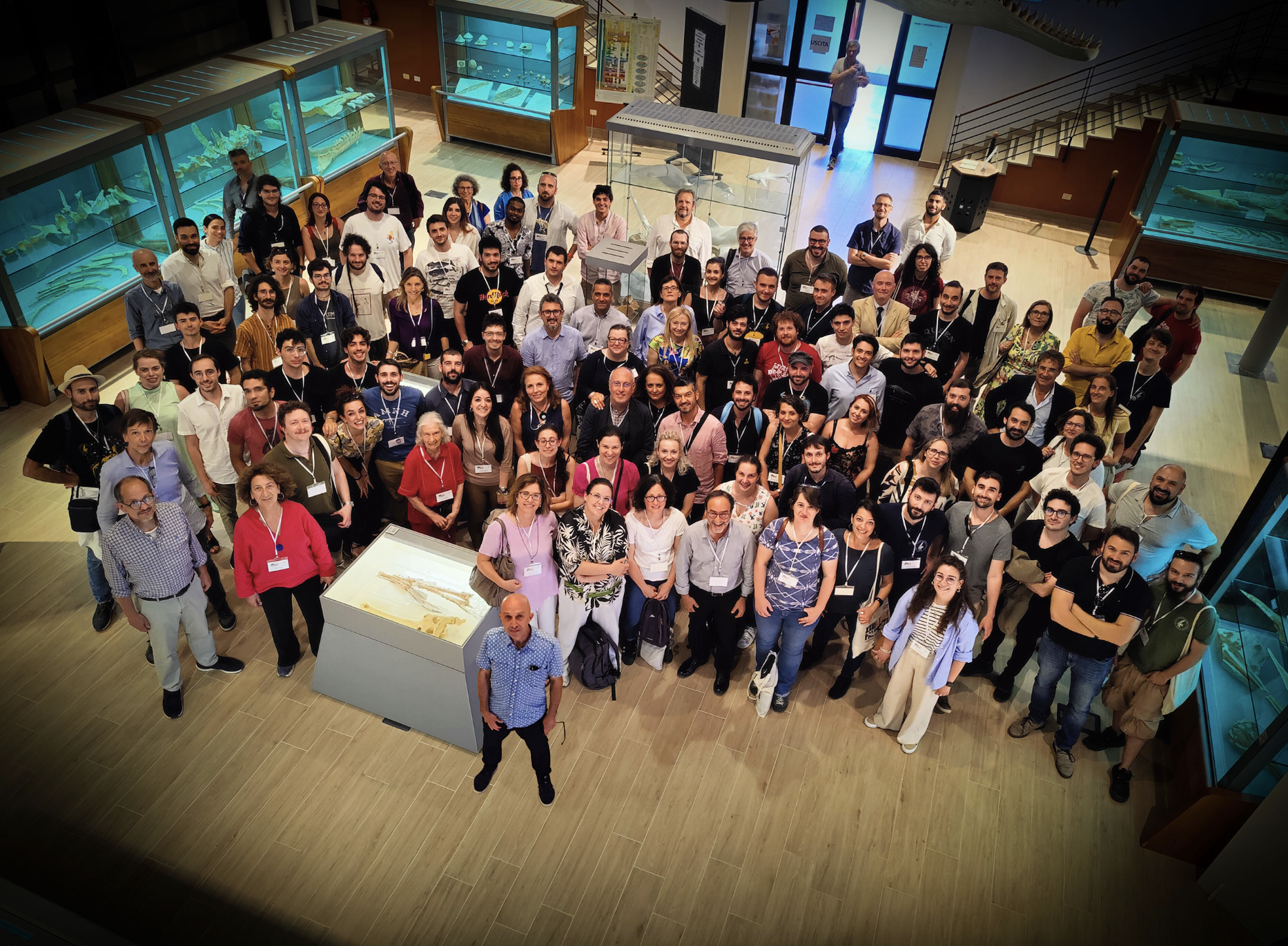 The participants of the XXIII Paleontology Days (photo by S. Dominici)